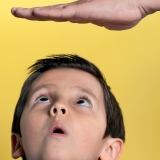 On the surface, some educators might think the higher level thinking skills needed to be successful on the Smarter Balanced Assessments are too much to ask of special education students, but I propose those higher level thinking skills are just what special education students need.
Here's why:
Reason 1
The Common Core Standards will motivate special education teachers to expect more of their students than ever before. We are all familiar with the research related to high expectations and learning. Simply expecting—and believing—a student can and will learn something has great positive impact on the student's progress. I have seen this first hand. By the same token, as an administrator of special education programs, I have seen teachers limit student progress because they thought the student could not handle harder work or curriculum.
Reason 2
The adaptive nature of the Smarter Balanced Assessments will help special education students take the test in a successful manner. Shorter testing time and correct levels of questions will help special education students do their best. Typical standardized tests frequently do not show correct levels of academic progress of special education students because the tests are too long.
Reason 3
Synthesizing, analyzing and transferring knowledge are done by most special education students every day, though they may not be doing them very well. They make judgments about people, events and things. They make decisions to act or not to act all based on these skills. The Common Core will force educators to create opportunities for special education students to acquire and practice these higher level thinking skills. Helping them use these skills in a more effective manner will help them be better people and learn more.
What do you think?
What do you think? Will educators be able to leverage the demand for higher level thinking skills required in the Common Core without demanding too much?   Click below and leave a reply with your thoughts.